Publications
On the transformation of global governance
---
Ebook: Global Governance: Demise or Transformation?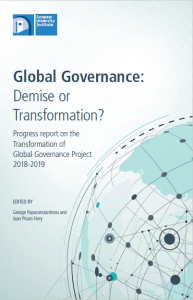 George Papaconstantinou and Jean Pisani-Ferry

September 2021
This eBook is the second progress report of the TGG project, as it nears its completion. It is comprised of the main take-aways of the 9 + 1 seminars that were organised in the context of the project between 2018 and 2021.
---
New Rules for a New World: A Survival Kit

George Papaconstantinou and Jean Pisani-Ferry

September 2021
Drawing on a comparative analysis of successes and failures in nine different fields (climate action, public health, global digital infrastructure, international trade, international finance, migrations, competition policy, banking regulation and international tax coordination), the paper sets out elements for designing and implementing an ambitious collective action strategy suited to the present context.
---
Global asymmetries strike back


Jean Pisani-Ferry

September 2021
This essay addresses an old question that international relations scholars view as fundamental, but which economists regard as secondary: that of asymmetries in international economic relations.
---
Le retour des asymétries mondiales


Jean Pisani-Ferry

October 2020
In the current pandemic scenario, global asymmetries are making a comeback. Jean Pisani-Ferry argues that, in a weakened global governance system, it is time for the European Union to adapt its structure to the new global geopolitical scenario.
---
Global collective action: The case for minimalist strategies

Jean Pisani-Ferry

July/August 2020
The range of problems whose solutions require international collective action and the acuteness of these problems are unprecedented. Yet as dreadfully illustrated by the Coronavirus crisis, the willingness of nation-states to cooperate to address these problems is lower than it has been for three quarters of a century. This tension is here to stay. This calls for a minimalist but effective strategy that builds on existing institutional arrangements and draws on solutions at work in various sectors to develop adequate incentive schemes that help address collective action problems, while limiting constraints to independent decision-making at national level.
---

Olivier Blanchard and Jean Pisani-Ferry

April 2020
The extraordinary operations that are under way in most countries in response to the COVID-19 shock have raised fears that large-scale monetisation will result in a major inflation episode. This column argues that so far, there is no evidence that central banks have given up, or are preparing to give up, on their price stability mandate. While there are obviously some reasons to worry, central banks are doing the right thing and the authors see no reason to panic.
---
A Primer on Developing European Public Goods – A report to Ministers Bruno Le Maire and Olaf Scholz

Clemens Fuest and Jean Pisani-Ferry

November 2019
The purpose of this paper is to discuss the case for enhanced provision of European public goods and to make a number of proposals for concrete steps and initiatives into that direction. With this paper, the authors hope to achieve is to contribute to and bring forward a constructive debate on the different areas where European public goods need to be provided in much greater depth and detail.
---
Collective action in a fragmented world

Jean Pisani-Ferry

September 2019
International collective action is in search of a new paradigm. It cannot rely anymore on global binding rules supported by universal institutions. New forms of cooperation have emerged in a number of fields. Europe should equip itself to be an effective player in this new global game. This calls for internal governance reforms.
---
Global Governance: Demise or Transformation?

G. Papaconstantinou, J. Pisani-Ferry (eds.)

August 2019
Progress report on the Transformation of Global Governance Project 2018-2019. Available as an eBook.
---
The threats to the European Union's economic sovereignty

Jean Pisani-Ferry, Guntram B. Wolff

July 2019
Memo to the High Representative of the Union for Foreign Affairs and Security Policy. The authors describe the current context and the increasing interlinkages between economics and power politics and the role to play in reinforcing and defending Europe's economic sovereignty.
---
Can economic multilateralism survive?

Jean Pisani-Ferry

April 2019
This RSCAS Policy Paper explores new governance arrangements that depart from legally binding rules and universal treaty-based institutions, evaluating their effectiveness and drawing five policy implications.
---
A Big Leap Forward: Institutions and Policies for a Viable Euro Area

George Papaconstantinou and Jean Pisani-Ferry

March 2019
EMU reform is crucial for a viable Euro area, but is taking place against a backdrop of political constraints. What are the critical reforms and institutional issues still in place?
---

Jean Pisani-Ferry

December 2018
Setbacks in global governance have dashed the optimism of the 1990s. Can alternatives be devised to ensure effective collective action?
---
One size does not fit all: European integration by differentiation

Maria Demertzis, Jean Pisani-Ferry, André Sapir, Thomas Wieser, Guntram B. Wolff

September 2018
Facing the increasingly urgent need for EU reform, the authors suggest a new club-based governance model which would offer scope for broad membership without stalling the process of further integration for those willing.
---
What Agenda for Retooling Global Collective Action? Issues for discussion

George Papaconstantinou and Jean Pisani-Ferry

August 2018
The authors briefly set out the scope and some issues dealt with in the Transformation of Global Governance project.
---

Jean Pisani-Ferry

April 2018
Why does global governance matter? What is the current state of global governance? Where can we go from there?
---
Other resources