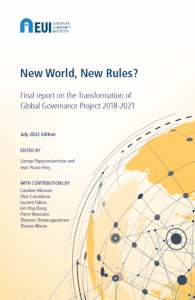 Edited by: George Papaconstantinou and Jean Pisani-Ferry

With contributions by: Caroline Atkinson, Vítor Constâncio, Laurent Fabius, Lim Hng Kiang, Pierre Moscovici, Tharman Shanmugaratnam, Thomas Wieser

September 2022
This eBook is the final report of the TGG project. It is comprised of the main take-aways of the 9 + 1 seminars that were organised in the context of the project between 2018 and 2021, the report on the final conference, as well as the key project outcomes.
---
The Project
'A house in order is not a city in order', wrote Tommaso Padoa-Schioppa. 'There are commons that bear no relation with what goes on within houses, but between houses […] The commons can only be managed in common.' Growing concerns about global commons are indeed a distinctive feature of present times, as deepening interdependence increasingly confronts the global community with heightened challenges. The institutional architecture of globalisation remains seriously incomplete, and existing institutions that constituted the pillars of global governance have been weakened. The TGG project endeavours to discern what are the most promising templates for international collective action by analysing and comparing nine issue areas for global governance: trade, capital flows and safety nets, cross-border migrations, competition policy, taxation coordination, banking regulation, climate change adaptation and mitigation, digital technologies and their effects, and global health. It is conducted through the organisation of sector- and topic-specific seminars and the publication of papers resulting from the associated research.
All of the sector-specific seminars have presently been completed and their direct outputs published here. Their summary take-aways can be found below, and the full seminar minutes can be found on the Events page. A final conference, summarising the findings and drawing out avenues of collective action for the future, was held on 30 September – 2 October 2021.
---
Seminar insights
Read the take-aways from the seminars, written by the project directors in collaboration with the organising partners:
International trade
with Bernard Hoekman (Global Governance Programme, Robert Schuman Centre, EUI)
Competition policy on a global scale
with Guntram Wolff (Bruegel)
Capital markets and the global financial safety nets
with Erik Berglof and Andrés Velasco (LSE)
The regulation of global banking
with Elena Carletti (Bocconi University and the Florence School of Banking and Finance)
Tax competition and tax coordination
with Pascal Saint-Amans (Organization for Economic Co-operation and Development, OECD)
Migrations
with Andrew Geddes (Migration Policy Centre, Robert Schuman Centre for Advanced Studies, EUI)
Historical perspectives
with Emmanuel Mouron-Druol (formerly at European University Institute, EUI)
Climate
with Laurence Tubiana (European Climate Foundation)
Digital Networks
with Gerhard Hammerschmid (Hertie School), Philip Howard (Oxford Internet Institute), Daniela Stockmann (Hertie School)
Health
with Guntram Wolff (Bruegel)
---